Aizen Myooh (愛染明王, Aizen Myō-ō, Ragaraja in the English version the manga series) is one of nine Buddhistic god spirits used by the Gandhara and is the guardian ghost of Kado.
About
[
]
According to Kado, Aizen Myooh has a bow called the "Arrow of Love" that has the ability to hunt down any spirit no matter how fast it is.[1]
Oversouls and Attacks
[
]
O.S.
[
]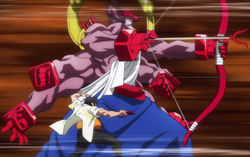 O.S
Description: With a bow and various types of arrows, the Over Soul relies on the six arms to fire multiple arrows or strike with multiple palms at a rapid high speed. The arrows fired will follow and hunt down any spirit, no matter how fast they are.[1]

Attacks
Love Squall (愛の雨

Rabu Sukōru

): After doing a little dance, Cado points both stretched hands forwards, making Aizen Myooh shoot multiple arrows.[1]
Anime/Manga Difference
[
]
Trivia
[
]
References
[
]
Exteral Links
[
]