Hiroyuki Takei (武井宏之, Takei Hiroyuki) is the author of the popular anime and manga Shaman King. He was born May 15, 1973 in Yomogita, Aomori Prefecture.
Hiroyuki Takei started his career as a mangaka with his manga "SD Hyakkaten". He was so successful that he became the assistant of famous mangaka such as Nobuhiro Watsuki ("Rurouni Kenshin") and Tamakichi Sakura ("Sabaki no Kaminari"). When his manga "Butsu Zone" was published in Weekly Shonen Jump, his career as an assistant of mangaka ended, and his own career as a serious mangaka began.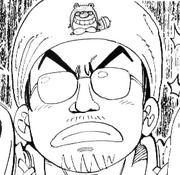 One of his popular one-shots is Itako no Anna, which features the well-known Shaman King character Kyōyama Anna. Takei, in an interview, stated that Anna is like a personal mascot/good luck charm.
His most famous and longest-running work is Shaman King. Takei also wrote two side stories that directly relate to Shaman King: Funbari no Uta and Mappa Douji.
As of 2010, Takei is working on two monthly series with Jumbor written by Hiromasa Mikami (加藤大悟, Mikami Hiromasa) and Karakuri Dôji Ultimo with Stan Lee.[1]
Bibliography
Name
Year
Information
Anna the Itako (ITAKOのANNA, "Itako no Anna")
1994
48th Tezuka Award, honorable mention; collected in Butsu Zone volume 3
Death Zero (デスゼロ, "Desu zero")
1996
Weekly Shōnen Jump Winter Special; collected in Butsu Zone volume 2
Butsu Zone (仏ゾーン, "Butsu Zōn")
1996
Weekly Shōnen Jump Summer Special; collected in Butsu Zone volume 1
Butsu Zone (仏ゾーン, "Butsu Zōn")
1997
Weekly Shōnen Jump, 3 tankōbon
Shaman King (シャーマンキング, "Shāman Kingu")
1998—2004
Weekly Shōnen Jump, 32 tankōbon, 27 kanzenban
Exotica (エキゾチカ, "Ekizochika")
2003
Weekly Shōnen Jump Issue #40; collected in Shaman King tankōbon volume 27
Jumbor Barutronica (重機人間ユンボル, "Jūki Ningen Yunboru")
2007
Weekly Shōnen Jump, 1 tankōbon
Karakuri Dôji Ultimo:0 (機巧童子ULTIMO:0, "Karakuri Dōji Urutimo: Zero")
2009
Jump SQ. II (Second), Stan Lee (concept)
Karakuri Dôji Ultimo (機巧童子ULTIMO; "Karakuri Dōji Urutimo")
2009—

2015

Jump SQ, 12 tankōbon, Stan Lee (concept)
Jumbor (ユンボル, "Yunboru")
2009
Ultra Jump #11, Hiromasa Mikami (writer)
Jumbor - The Desert with a Floor Heater (ユンボル 「荒野の床暖房」, "Yunboru - areno no yukadanbō")
2010
Ultra Jump #3, Hiromasa Mikami (writer)
Jumbor (ユンボル, "Yunboru")
2010—
Ultra Jump, Hiromasa Mikami (writer)
Shaman King Zero (シャーマンキング0, Shāman Kingu Zero)
2011—2012
Jump X, 1 tankōbon
Shaman King Flowers (シャーマンキングFLOWERS, Shāman Kingu Furawāzu)
2012—2014
Jump X, 6 tankōbon
Shaman King The Super Star (シャーマンキングスーパースター, SHAMAN KING THE SUPER STAR)
2018-
Shounen Magazine Edge
Character design
| Name | Information |
| --- | --- |
| Smash Bomber (スマッシュボマー) | It was a series of toys and a manga created for Takara Tomy. Takei was hired as an art supervisor and one of his assistant, Katō Gaito (加藤大悟, Gaito Katō) drew the manga who ran in [[[Wikipedia:V-Jump|V-Jump]] during issue number 8 to 10 in 2006. The series was canceled after 3 chapters and never met the intended 197 pages announced in the first chapter |
| Phantasy Star Portable 2 | Takei did the character design of Hanhel Tsunagin (ハンヘル・ツナーギン, Hanheru Tsunāgin) and his axe True Hash |
Other
SD Hyakkaten
Sabaki no kaminari
Doragu Doll Dan
In an interview with Shōnen Jump, he stated that his favorite manga by other authors included Taiyo Kosoku by Baru, Blade of the Immortal by Hiroaki Samura, and Hellboy by Mike Mignola. He also cites American comic books, mecha anime, Hirohiko Araki of JoJo's Bizarre Adventure fame, and Osamu Tezuka as influences.
Community content is available under
CC-BY-SA
unless otherwise noted.