Mama (ママ, Mama, Mana in the English anime series) is the guardian ghost of Opacho.
About
[
]
Mama is the guardian spirit of Opacho. Although her true form is not seen in the series, its believed to take the form of a sheep.

Oversouls and Attacks
[
]
O.S. "Ram"
[
]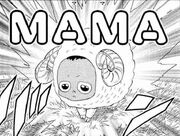 O.S. Ram
Description: Using her own hair, Opacho creates an Over Soul in the shape of a sheep around her body. The Over Soul has great offensive power as a single hit from it was able to break all of the bones in Umemiya Ryunosuke's body in the procress.

Anime/Manga Difference
[
]
Trivia
[
]
References
[
]
External Links
[
]