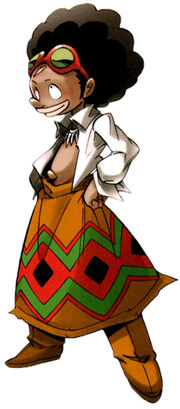 Hi, I'm Queen Toon Otaku; Toon Otaku for short. I'm a huge Shaman King fan!
Alright, let's cut to the chase; some things to know about me:
I'm a huge Chocolove fangirl. Call me crazy, but I just LOVE my cute little Choco-chan! (Yes, I call him that sometimes and no, I'm not ashamed.)
I prefer the Japanese version to the dub. The dub's okay, but could've been better. I kinda want a redub, actually.
You know that "flash-forward" Shaman King manga Funbari no Uta? Yeah, I don't count that as canon; kinda like Dragon Ball GT. (To anyone who does consider it canon, I'm sorry.)
I mostly go by the anime's canon.
My overall persona is my Sonic FC, Erica Sakura. Or at least it was. Now it's kinda inconsistent.
Hope we'll be able to get along! (Also, am I the only one here who thinks Chocolove looks kind of like Usopp from One Piece?)
My favorite pages
Edit
Community content is available under
CC-BY-SA
unless otherwise noted.