I love that you have translated the poem, mthank you very much --Gojita 12:40, 11 March 2009 (UTC)Gojita
Translation
Edit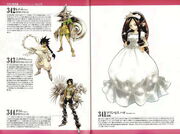 Could you perhaps translate the names of the Guardian ghosts of the three Patch Priests, the kanjis should be the ones right next to the O.S., i would be really gratefull if you could. --Gojita 17:09, 18 March 2009 (UTC)Gojita
Kororo Spoiler
Edit
Thank you for giving the links, but i would prefere to pospond the writting until the scans comes out. --Gojita 11:43, 21 March 2009 (UTC)Gojita
hi umm i was wondering where exactly u got the shaman king profile from kang zang bang. all ive been able to find were up to chapter 14 if you could halp me out and give me a link to a website that has all of the updated chapters that would be great. have a nice day!!! : ) Gamajin09 03:58, 19 April 2009 (GMT) Gamajin09
Rhysno1 21:19, 12 May 2009 (UTC) yeh thanks for your contributions and could you please send me a link aswell?
You should note that not all Kang Zeng Bang extras are beeing used, especially in the history section, please stop adding them randomly. This is your first warning. --Gojita 20:00, 13 May 2009 (UTC)Gojita
To be honest, is the anime images used to get a little variety albeit some of them are in a little bit of a low quality, still please don't overdo it like that and consider how the articles are readible with so many images or the use of larger images with little text. The warning still applies, but i promise to take a little more easy. Tell you what, why don't you focus on writting some more to the articles instead of just adding images, that would really be a help. Also please don't use that image gathering box for attacks, it does not look good. I have only been using it when the article is about a larger image collection, such as the poems. --Gojita 21:13, 13 May 2009 (UTC)Gojita
Re:Usui Oyaji/Lycan
Edit
Well considering that Mentalite is the ultimate information source, Oyaji was released as a name prior as one of those shaman files that was once at the end of each chapter. Considering it has been along for a longer time i think we should stay with that. Also until a full translation and scanlation comes out from Makin Trad, all information contradicting what we already have written... well i would prefere to ignore them. Also please sign your posts using ~~~~ and then your name. --Gojita 15:19, 19 July 2009 (UTC)Gojita
Great Spirit O.S.
Edit
Can you tell me where you got that picture? Cause it isn't even in the manga....or is it in the raw manga?
Usui Lycan and warriors
Edit
Thankyou for reminding me again. Have already cleaned up the articles. --Gojita 17:36, 30 July 2009 (UTC)Gojita
I want ask you a faver. or two. whats a good color for ryu's hang? I am trying think of a good colorEliskuya2 19:50, 1 August 2009 (UTC)
Community content is available under
CC-BY-SA
unless otherwise noted.